If you are an apple shape, you will have following physical-characteristics:
The upper body is broader than the lower body.
Slimmer leg and narrow hip.
Bust falls under average to a bigger size.
The waist is not defined.
Fullness and weight gain are mostly around the waist
Do's:
Avoid unnecessary bulk around the bust and waist area.
Use of softer fabrics.
Pick a straight line or slightly fitted clothing silhouette.
Keep detail around neck and shoulder or below hip or hem.
opt for brighter lower-body clothing.
Wear clothing that brings attention to your leg area.
Don'ts:
Use of excessive detail and fabric around the waist area – that will make your top portion look bulkier.
Brighter upper body clothing – it will highlight your top portion more than needed.
Wearing skinny pants- it will throw off your proportion.
Wearing horizontal line geometric print- It will make your top portion look heavier.
Wearing shapeless and boxy clothing – It will make you look bulky.
Preferable Necklines:
Invest in tops or dresses with wider and lower necklines.
A low V-shape neckline is most preferable.
Embellishment or detail on the neckline highlight the top.
Avoid high and narrow necklines. It will enhance the bulkiness around the waist and midsection.
Range of preferable Necklines for apple body shape: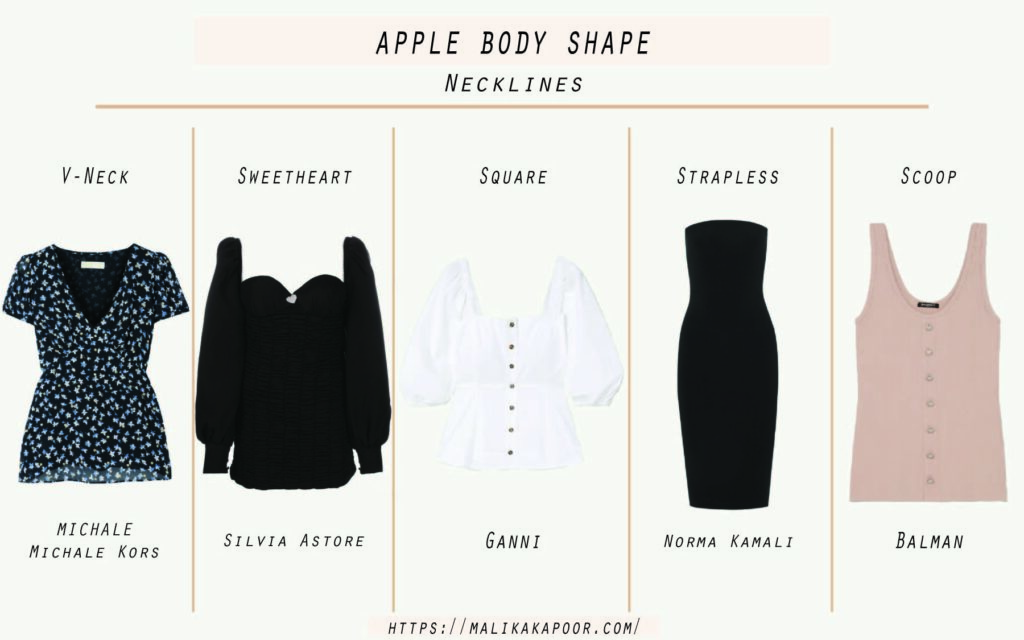 Preferable Sleeves:
Avoid fitted sleeves.
Opt for Flared and lose sleeves.
Investing in detailed or embellished sleeves helps to divert attention from a heavy waist and stomach.
Range of preferable Sleeves for apple body shape: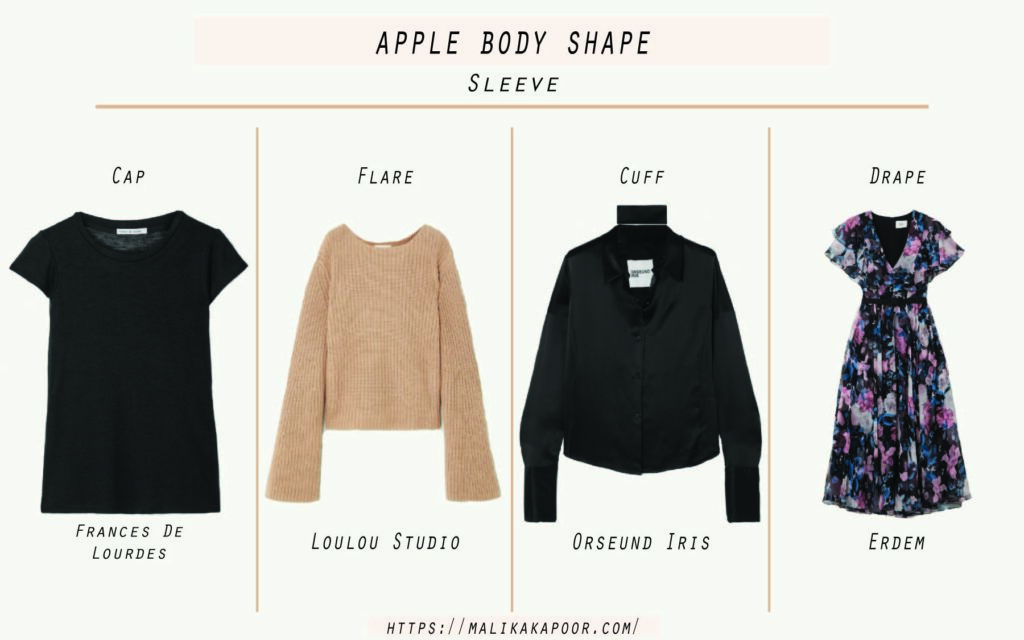 Preferable Tops, T-shirts, and Shirts:
Avoid crop tops and fitted tops at any cost.
Invest in a loose or flowy fit top with embellishment on the neck or either on the hem and nowhere in between.
The length of the top should be long enough to cover the stomach or till the hip line.
Instead of solid colors invest in big prints, textures, and horizontal patterns.
Don't tuck in the top. Instead lit it low loose.
Range of preferable Top, T-shirts, and Shirts for apple body shape: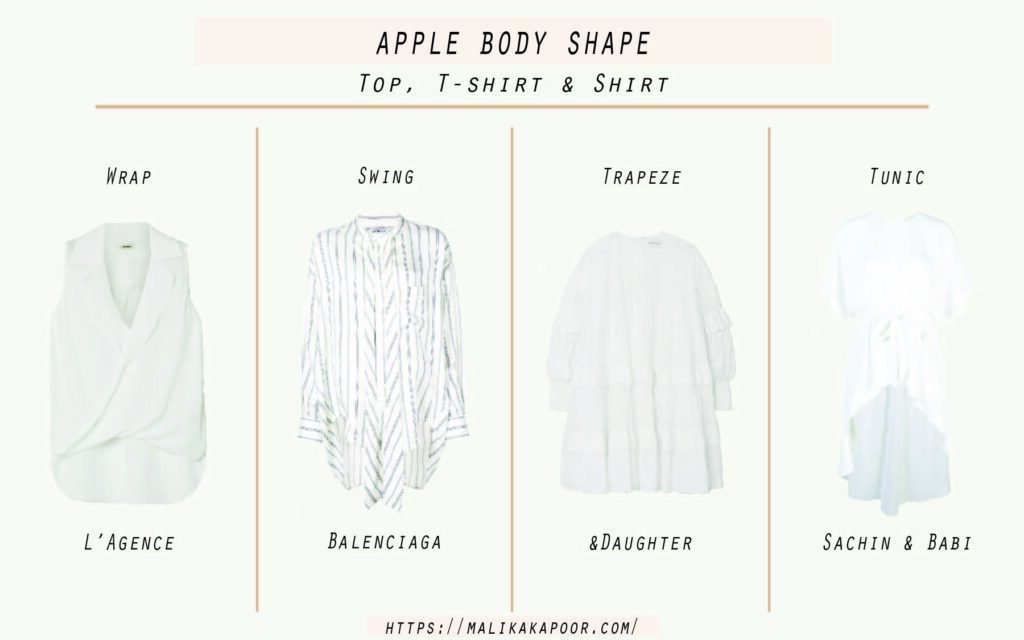 Preferable Jacket and Coat:
Avoid double-breasted coats or jackets.
The length should be longer than hipline.
No embellishment or belt around the waist.
Straight- structure or A-line is more preferable.
Don't button up, wear open. It will elongate your figure.
Range of preferable jackets and coats for apple shape body: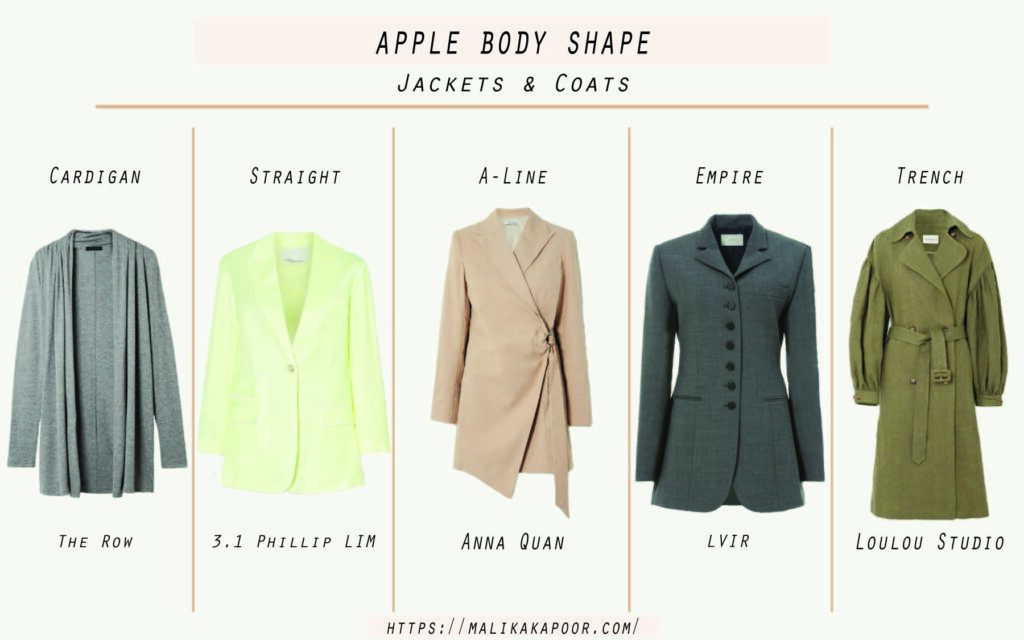 Preferable Jeans and Trousers:
Flares, boot-cut, and wide-leg style jeans or trousers will proportionate out the body.
Opt for plain jeans or trousers with back and pockets.
Avoid embellishments around the waist and brighter/light color as it will grab attention.
Low to mid-rise with wider belt jeans or trousers will hide the bulky stomach area.
Jeans and trousers should be flat fronted and not body hugging.
Side-fastening jeans and trousers avoid extra bulk on the stomach area.
Range of preferable Jeans and Trousers for apple shape body:
Preferable Skirts and Shorts:
High waisted skirts and shorts, flowy or wider from the bottom will hide the bulk around the stomach.
Avoid too tight or too boxy, as it will through you out of the proportion.
Avoid tiered and ruffled to avoid a heavy/bulky look.
Side-fasting will avoid extra bulk on the waist and stomach area.
Preferable length of skirt and shorts should be at least till above knee, knee, or till the calf.
Range of preferable Skirts and shorts for apple shape body:
Preferable Dress style:
Avoid body-hugging or tight dress.
Dresses' silhouette which distracts attention around the waist-stomach area is more preferable.
Investing in a belt to wear at the thinnest part of the waist will give the defined waist look.
Avoid dresses with heavy, detailed, embellished, or texture around the midsection area.
Invest in a dress that has good detail around the neck, shoulders, sleeves, and hem.
The silhouette of the dress should be narrow at the shoulder and wider/flowy at the bottom.
Range of preferable dresses for apple shape body:
Preferable Jumpsuit and Playsuit:
Avoid skin-tight or body-hugging jumpsuit or playsuit.
Jumpsuit or playsuit should be narrower from the shoulder and wider/flowy from the bottom/hem.
Invest in a high-waisted Jumpsuit or playsuit as it will avoid extra attention around the stomach area.
Opt for light-flowy fabrics.
Avoid any embellishments around mid-section.
Range of preferable Jumpsuits and Playsuits for apple shape body:
Achieve more proportional body shape:
Wear dark color clothing around the waist like a dark color top or belt.
Wear a dress that has either a slit at the waistline or right below the bust line.
Wear a good push-up bra or a bra that lifts your bust.
Use horizontal print or detail.
Invest in clothing that doesn't have any detail near your bust, waist, stomach, or hip. Instead, opt for clothing that has detail either on the top or below the hip.
Still unsure about your body type? Click here to know your body type.
You might also like
August 31, 2020

August 13, 2020

July 13, 2020